Introduction
Every year, I lead a team from UConn 3DPC, in the Hackathon events put on at Brandeis University. I thought it'd be fun to cover each of the projects we created in the 3 years I participated in the event!
The Printathon is a 24-hour event in which teams from educational institutions gather and compete to produce a 3D-printed creation attending to criteria divulged at the beginning of the competition by a panel of judges including student leaders, technology specialists and educators.

The entire event is open to the general public and they are encouraged to walk around and ask as many questions as they want!
Printathon (Spring 2017)
Copy Carver – A Manual Duplication Machine (Make it Human)
This year, we tried to make a multi-axis copy carver. The general idea was that you have a stylus and a Dremel. The user of this device could theoretically move the stylus around an object, like a 3D printed lithograph, while the Dremel would move at a 1:1 rate while removing material from a fixed piece of stock. This was due the stylus and Dremel being mechanically linked together in the X, Y, Z, and A (rotation) axis.
Did you notice I said theoretically? This invention didn't work that well! The machine was not rigid enough for us, because the parts were too big to print with a high density infill given that we only had 24 hours. We should have made this smaller and focused on creating a better MVP for the amount of time we were given. Lesson learned!
The theme of this  year's event was "Make it Human". My team and I decided to interpret the prompt a little loose. To us, this submission was appropriate for the challenge because its goal was to offer a way for a community to reproduce works of art and remake products. We saw this tool as a way to make manufacturing an accessible thing with a very hands-on mode of interaction.
Printathon (Spring 2016)
Human Powered Drill Press (Off The Grid Sustainability)
In less than 24 hours time, my team and I developed a 3D printed pedal actuated manual drill press.
The device is composed of 27 different pieces. If you were to print everything on one 3D printer, it would take that machine over 150 hours!
What's really amazing to me about this project is that the CAD work was finalized maybe 12 hours into the challenge and we still finished. My team and I had to figure out how to use the 2nd half of the Hackathon to actually produce our design.
We wrote out a print time-table, pre-sliced all our STL files, organized ourselves the best we could for the exhausting 2nd half. We decided it would be best to take shifts between sleeping, babysitting watching the printers, and working on our final presentation.
Printathon (Spring 2015)
Prosthetic Leg for Bicycling (Enabling and Empowering)
This year, my team and I thought about how one of the biggest failings in public transportation is getting people that last mile to their destination. For the disabled, this can be a particularly daunting challenge.
We decided to create a dedicated prosthetic leg that an amputee could use to ride a bicycle! Here's what we ended up with –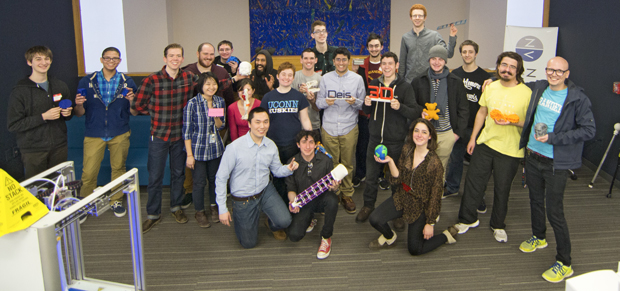 This event is also where I met my lovely girlfriend of three years, Claire Sun! #nerdlove
Press coverage:
UConn School of Engineering –
3DPrint.com –
Students Create a 3D Printed Prosthetic Biker Leg, Electricity Generator, & More at 24-Hour 3DPrintathon
Conclusion
I'm proud to say that every year we consistently won awards and received much recognition for our creations. We'd always rank either somewhere in the top 3 or picked as a community favorite.
As of Fall 2018, I now participate as an advisor and mentor for the event. I do my best to help rookie teams find their bearings, and to help the senior teams with equipment failure. I basically fight fires for 24 hours wherever I'm needed and I have a lot of fun doing it!
This transition is like turns the satisfaction of seeing seeing my team finish a hack, to a much bigger sense of fulfillment when all of the teams I've help finished on time.
I'm sure that as I advance in my career I'll always stay apart of this event. Who knows, maybe I'll be a judge for them in Spring 2019!
Thanks again to Brandeis University, Ian Roy, the staff at the Brandesis Makerlab, and the E-Board members of Deis3D  for organizing such a wonderful event. This competition has really helped shape me into the person I am today; and I'm so happy to see them continuing to be successful year after year.